Improve Safety | Reduce Incidences | Prepare Teams | Improve Performance
Tecknotrove is a pioneer in providing training simulators and VR training solutions to the aviation industry. TecknoSIM simulators and virtual reality solutions are designed for airlines, airports, ground handlers, aviation training institutes and MRO training institutes . Training solutions are designed to meet client requirements and help in improving ramp safety and efficiency at the airports and hangars. Training on TecknoSIM simulators eliminate the risk to aircraft, personnel and equipment, thus providing invaluable training at reduced costs.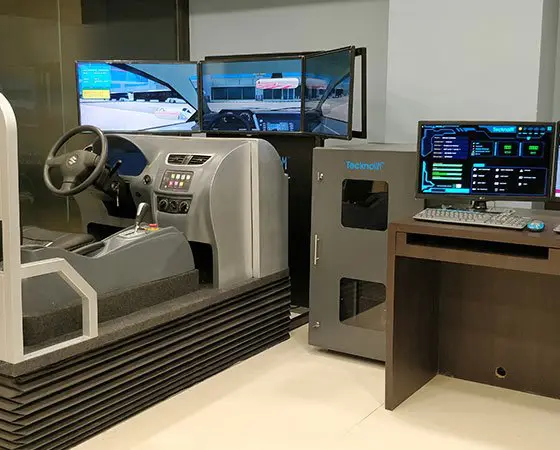 Tecknotrove develops a wide range of training simulators that are replicas of actual ground support equipments and vehicles. The simulators are designed for equipments like aircraft pushback, cargo loader, passenger boarding bridge, passenger bus, catering truck and fire trucks that operate on an airside. We offer a range of scalable solutions including VR training solutions , standalone desktop simulators, part task trainers, low fidelity simulators and full scale motion simulators. Tecknotrove specialises in setting up full-scale learning and development centres for its clients with a range of technologies . We also provide onsite training services to develop skilled and safe airside drivers and GSE operators for our customers.
Airside operations are an integral part of aviation. The hazards and risks associated with runway, taxiway and apron operations need to be pro-actively managed in order to prevent incursions that may lead to accidents and damage. Tecknotrove has developed advanced airside safety training simulators for training operators on a variety of Airside vehicles and equipments.
Customized Training Program
Standardized Training
Reduced Incidences
Emergency Situation Preparedness
Reduced Equipment Downtime
Improved Aircraft Turnaround
Customized Training Program
Standardized Training
Reduced Incidences
Emergency Situation Preparedness
Reduced Equipment Downtime
Improved Aircraft Turnaround